TAXI WITHOUT A TAXI LICENSE. TAXI SCAMS
BE CAREFUL! AVOID FRAUDERS ON UNAUTHORISED VEHICLES!
In case of additional requests, contact us via
– or fill out our request form online:
Be careful when booking a car with a driver in Italy. A lot of scammers offer their transfer services online. With an unlicensed car, you need to be careful, because if you are stopped by the police in a car that has not permittion to transport passengers, then not only the driver will be fined and the car will be confiscated, but  the law enforcement will also be able to fine the tourists. The maximum fine is of 487.00 euros per person. In July 2012, in Milan, tourists were denied Schengen visas for this and a fine was imposed. In Rome, in March 2013, 52 cars were arrested. In 2014, in Italy in total, 143 cars were arrested. In July and August 2015, 14 cars were confiscated in Verona and Venice. In 2016-17, during the winter season, 21 cars were arrested, including two buses for 16-20 passenger seats. In Tuscany, in July and August 2018, at the airports of Florence and Pisa, 11 illegal taxis were detained with passengers. In 2019, 23 cars with passengers were detained in Milan, Rome, Verona and Venice.
HOW TO RECOGNISE A LICENSED CAR?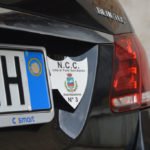 Taxis are not difficult to find, but how to recognise N.C.C. (Noleggio con conducente – Car rental with driver). Close to  the car number on the back, usually on the right side of the number, there is an icon with the name of the town hall and province where the License was issued. The shape of the icons may vary, as every province is different, but the icon is mandatory !!! Also inside the car there should be a License and all relevant documents. The vehicle data sheet states that the car is designed and equipped to carry passengers. It has to be written "Noleggio da rimessa con conducente". The number of the car must correspond to the number in the License, since the License in Italy is issued for each car, and not for the transport company! Also the authorised vehicles have obligatory special insurance, passengers are therefore fully insured !!! The service is considered a level above and therefore cars are not painted like a taxi. The driver must have special driving license. A special rectangular document in pink. Name and surname in it must be completely identical to normal driving license. A person with ordinary car license does not have permission to drive an authorised vehicle, since he has not undergone special training and has no right to transport passengers!
MAKE SURE THAT THE DRIVER HAS THE REQUIRED AUTHORIZATIONS!
ENTRUST TO THE PROFESSIONAL YOUR LIFE!!!
+39 329 447 9635 +39 393 585 5858
No time to place an order yourself?
Order a call from our operator or call yourself
ITAL TRANSFER - MAIN ADVANTAGES
Why should you book a transfer / taxi in Italy with our team?
The main reasons are listed below